notebook philosophy
Big beautiful hardbound notebooks are just as seductive to me as to anyone else. However, a notebook I am to use is a notebook that's going to get carried around with me, and a fat notebook that gets carried around for the full lifetime of its many pages gets pretty dinged up by the end. Combine this with my college-era realization that I was not referencing old material in my notebooks out-and-about enough to make it worth carrying the weight, and you arrive at the principle of using thin copybook-like notebooks within a sturdier cover.
There's another argument for it from the principle of satisfaction: isn't it the best feeling when you fill up a notebook and flip through your accomplishment? When you begin a new one? Yes, a larger notebook magnifies this effect, but with diminishing returns. Experience the joy of notebook completion on a more frequent cadence: small notebooks!
I'm committed to the a5 size, because the ordinary traveler's notebook size (the same height) did work well for me, but I wanted to be able to use more ordinary stationery.
Also, these days I'm trying to mix my todo-type notes with my journaling with my art, so ruled paper is Right Out.
exceptions
I have a series of commonplace books that are hardbound, because I was only ever writing in them at home. I don't do this kind of commonplacing anymore – a woe to me, but a reflection of how I now keep a personal wiki and, well, this site.
There is a certain almanac being put together within this bad boy. It's meant to reach an heirloom state, so the fanciness is necessary (even if the pattern's just printed, not properly embossed leather or what-have-you).
current notebooks
One thing I can't get over is that when I bought a bunch of these it didn't even say "slim", just A5 – and it's not A5! You can't mess with one of two numbers that define a thing and say it's that thing! Anyway, one of those is my main catch-all, started at Christmas, and then I've got a no-name blank book I'm using for a particular project.
For work, still a cheap a5 notebook from a German company for the Hungarian market: not luxurious-feeling, but far better than anything equivalent you get here.
A dear friend gave me a Hobonichi Techo for 2022. I'm filling up its monthly calendars with proper planning and so far have painted a painting on the one page yet applicable. Not 100% sure on whether I'm fixed on an art challenge type approach or whether I'll try to organize in it, but it's deeply, deeply cute.
current cover
This cover from Pikore in Ukraine. I bought more as Christmas gifts, too – I'm quite happy with it with the small exception that the piece of leather on the band closure is too flimsy to do its job quite right.
current loose leaf paper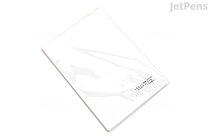 Tomoe River A5 for letter writing.
Hammermill 32lb premium laser for other needs.
A ream of black paper I'm still trying to figure out what to do with. Accepting recommendations!!
past loves
If you don't mind thicker paper and you do mind ghosting, Clairefontaine is just lovely. Their special edition covers are beautiful, but their ruled paper feels ludicrously fat if you're used to Japanese rule width.
Muji's notebooks come in different tiers of quality. The premium is just as nice as could be hoped. The standard tier is smooth enough to be adequate for fountain pens in my experience, even if it doesn't feel fancy… and cheapness is a virtue.
A really nice notebook; the front is a little too Victorian advertisement for me to consider it flawless, but it's also possible I just haven't settled on how to ornament it to my own tastes. Solid stitching relative to other similar things I've gotten. The paper is Tomoe River – I'm not sure whether old or new. I stocked up very aggressively on these. They come in really beautiful packaging that I'm using to store filled ones.
The standard paper for the Traveler's Notebook refills is fairly blech to me, but the light paper has been great, a bit thinner than Tomoe River in my recollection but pleasing in the same way.
I'm almost shy to recommend them because I don't want the nicest paper to be sold out, but I recommend Paper Penguin Co. notebooks for anyone who uses a traveler's notebook or other notebook cover (I reviewed their onion skin notebook here).
I'd used an a5 traveler's notebook cover from Earthly Journals. Its elastic had failed, so I braided together various too-thin elastic1.
---
I am fonder of the result than I suspect I would have been had the supply chain been able to provide me with elastic of the correct width. How can those of us trying to tone down our consumerism leverage the IKEA effect to love our repairs? ↩
other paper pages
paper posts